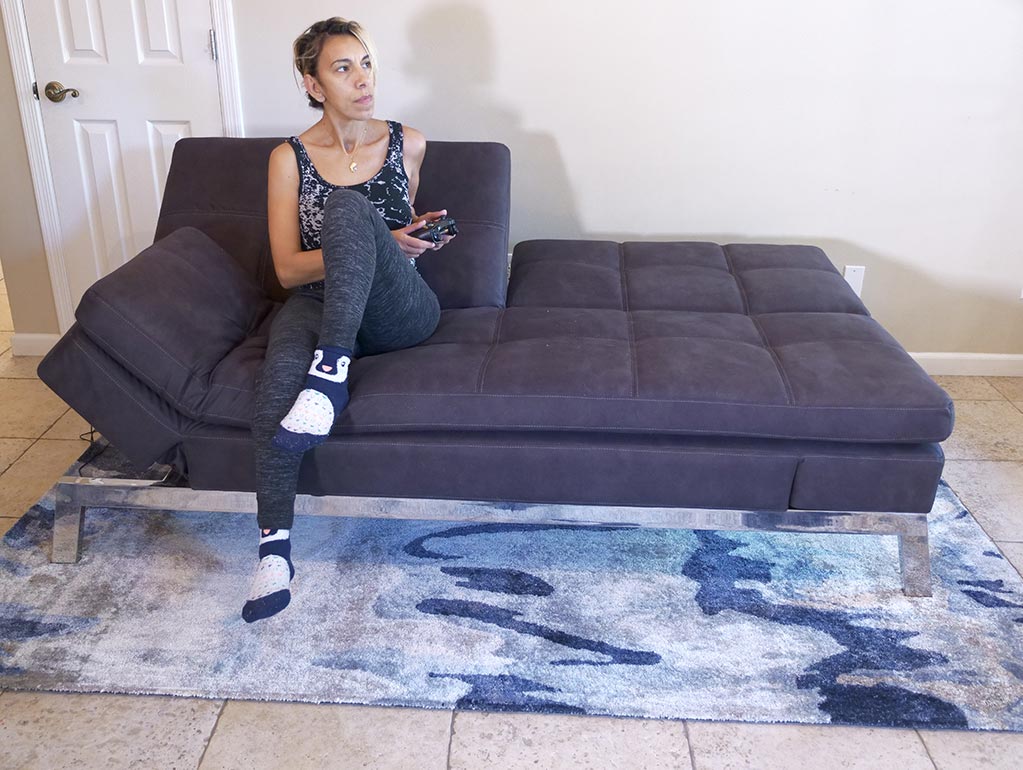 The Coddle, formerly known as the Gjemni, redefines the alternative couch theme, by being useful as a lounger, a couch or a bed. It currently comes in 5 different cover options:
• Black
• Red
• White
• Java
• Microfiber Grey
It's more than just a couch! It's the couch with an impossible number of possibilities. I actually gave the Gjemini its own nickname "SuperCouch".
What's super cool about the Gjemini is that it is comfortable in every position. Yes, the Gjemini is beyond a couch and can be used and enjoyed in many positions. It instantly becomes a bed or a hang-out space or even a meditative place.
I have been testing it, including my kids and dog occasionally, I am saying occasionally because it is way too pretty to be ruined and I want to enjoy it for the longest time. But then again, what's the point of testing a product if you don't really put it to the test.
And so there we are, testing it in every possible way ever since I received it and put it together.
I ordered the Gjemini in grey, microfiber. It came in a huge box, inside another of course bigger box holding it. True it took me forever to unbox it and ran out of room in my recycling bin BUT that's a great way to keep your couch from being damaged.
Un-handy people rejoice because it requires NO TOOLS. Once you locate the 4 legs that come in a separate "fancy" box all you must do is snap them on, flip the couch over and you are finished.
This alternative couch is the perfect lounger by day for your guests with the ability to transform into a bed easily at any time.
On each side of the Gjemini you will find USB ports as well as volt sockets to help you charge your devices while charging yourself.
The modern design of the Coddle allows you to recharge all of your devices with 4 USB ports and two 110-volt sockets.
Coddle Couch Video Review
I'm not sure if my video does a good enough job of saying how much I LOVE my coddle couch. This is truly an alternative couch as it preforms the couch job perfectly, and the bed function is great. I wouldn't use it as an every night sleeper, but it is pretty close.
The ordering process is no different from anything else that you would buy online. Except that you are buying a major purchase sight unseen. Of course, this makes your purchase scary, and that's why I shot the video above so that you could get a look and a second opinion of the product before you hit the buy button. I didn't leave my couch to buy my coddle, they were running an end of the year 20% discount. I'll see if I can get a similar coupon for you during other times of the year. Coddle offers an amazing 60 day trial period. If you don't like it and it isn't found to be dirty, stained, damaged or abused they will give you a full refund. I purchased it in December of 2018. Shipping took less than 2 weeks, depends on your window to schedule delivery.
What's Inside the Coddle Couch?
This is by far the easiest assembly possible for a direct to your door couch. You simply click the 4 legs in and flip it over. Seriously, that's it. I spent far more time getting it out of the box then actually putting it together. They provide 2 thumb protectors to keep your skin from getting pinched while you click in the legs. The other thing to note is that you need to match up leg a, with sticker a. I didn't realize this and put the D leg into A and I could tell that it didn't look right before I flipped it over. The only other difficult part of getting it set up is that you have to pull the cord to unzip the electric cord from the built-in hiding space.
| Size | Bed Dimensions | Couch Dimensions | Weight |
| --- | --- | --- | --- |
| | | | |
It screams of day bed, yet it is fully functional as a couch or as a lounger. It is really heavy (137.5 lbs), so it will take 2 people to flip it over or carry it. What I find interesting is how heavy the shipping boxes are. Once you take the couch out of the boxes, it isn't that heavy. On each side of the couch you will find USB ports and a US standard outlet.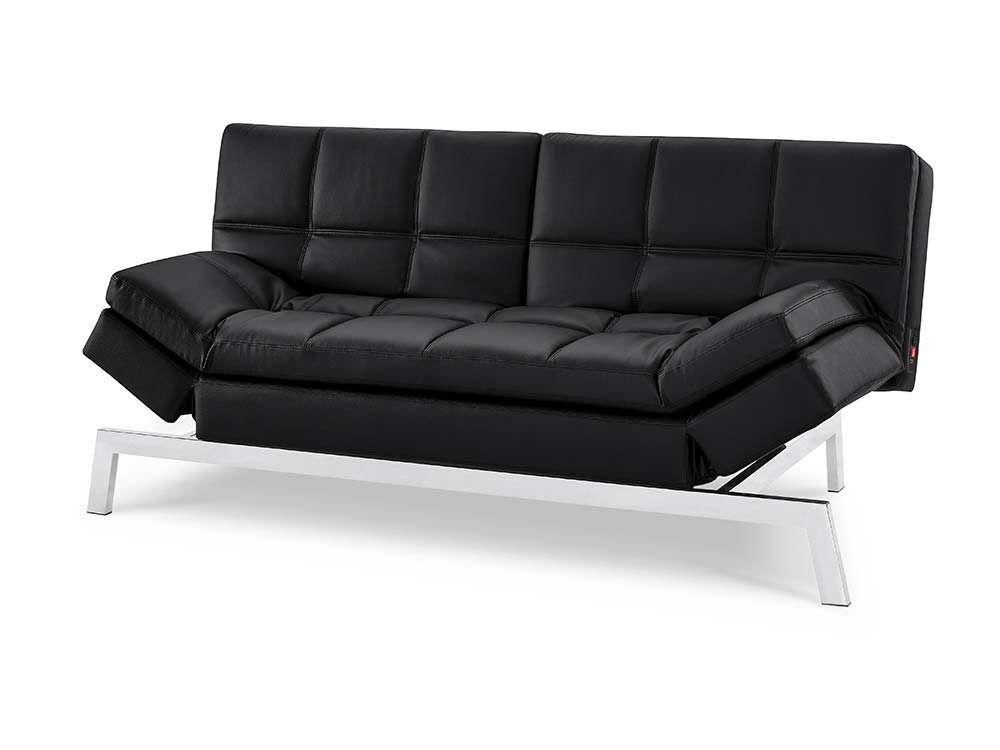 Yes, Yes and YES!!! This is a very comfortable bed once it is fully flat. Your guests will love sleeping over and you will find that you gently doze off on the Coddle more often then you think you would.
Pros
Can be used as a couch
Can be used as a bed
Tilt the head up to lounge/no need for a pillow
Luxury Feel
USB Ports on Each Side
110V Port
Cons
It took me half an hour to assemble
You could snag your thumb in the assembly process
When you adjust the couch configurations it may slide/move
Does the Coddle Have Storage?
Unfortunately, no.  However, the ability to charge all of your smart devices still makes this an alternative couch.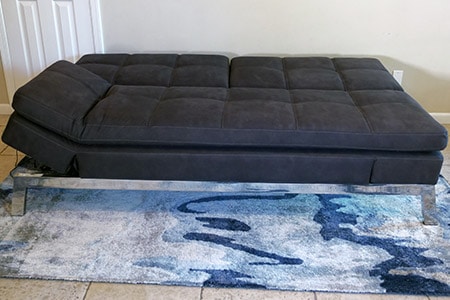 Coddle Couch Price & Discounts?
Couch Price
Coddle Couch & Bed
Stylish Design fit for an Office
Coddle Couch Review Conclusion
I have had it for about 6 months now and it gets more use than any other couch that I have. It is fun to play with all of the different settings and is comfortable doing the main job of being a couch. Where it really shines is that it is an excellent sleeper. I can't tell you how many times I have had to drag one of my kids or my husband off the Coddle to go to their beds. The ideal person for this is someone who doesn't have a ton of space yet wants to provide someone with the opportunity for a quick/comfortable bed. This would be great in an Airbnb type of condo or house. It would also fit nicely in a small home office to give you the ability to sleep an extra guest or two. The last type of person who should really consider this is someone who is thinking about buying a sleeper sofa. Seriously, when was the last time you slept on a sleeper sofa? Do you remember that being a nice experience? Of course not! This solves the problem created by sleeper sofas. If you have one of these and you see a sleeper sofa you will laugh, not kidding. My MIL has a sleeper sofa and my husband is too tall for it and I'm way too big for it, so it pokes me. Fortunately, my son is still small enough that he can use a sleeper sofa, but when he grows a bit more, I'm going to have to buy her a Coddle for her spare bedroom/office.