You Will Love the Shredded Memory Foam inside the Bundle Bean Bag Chair

This is NOT the bean bag chair that you have known all of your life. This is possibly the MOST COMFORTABLE bean bag chair out there. How do the folks at Bundle Living achieve this? First step, cut out the middle man and ship directly to your door. That's what it takes to keep prices low. Second step, upgrade the materials of both the cover and more importantly the inside material.
Our bean bag came in a long cardboard box, just like a mattress in a box, compressed and rolled up. So compressed to the point I was a little worried when I unwrapped it. It looked like a rug at first! That skinny rug fluffed up minutes later to turn out to be one of the biggest most fluffy bean bag chairs I have ever seen.
So, do not be worried when you open it up because you are in for a treat. A super comfy treat!
The bean bag features a silky soft microfiber cover (available in Brown, Dark Blue and Grey), filled with premium memory foam.
A classic yet simple design that goes well with our modern-day living.
There's a convenient zipper that goes almost all around the cover for easy removal. Once removed, you will find a huge bag with tons of shredded memory foam. By the way the cover is stain and water resistant and machine washable.
Pros
Likely the most comfortable bean bag chair available
Replaceable Cover
Doubles as a dog bed (for large dogs)
Cons
It takes a few hours to fluff out to the proper size
Currently limited cover options (blue, grey, mocha)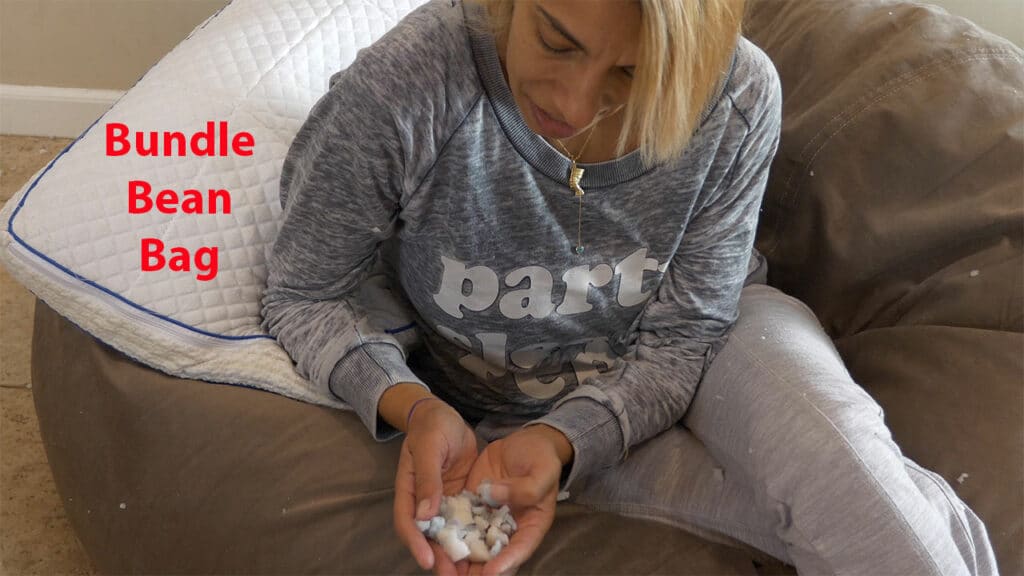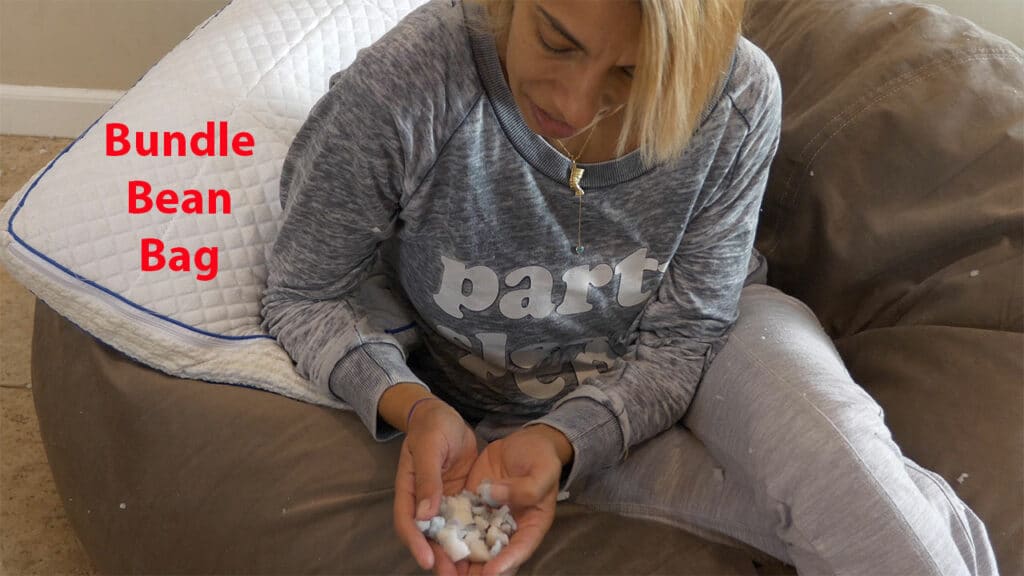 They offer a forever warranty for manufacturer defects.
60 Day Trial
Free Shipping
Free Return Shipping
Financing at 0% APR
What's Inside the Bundle Bean Bag?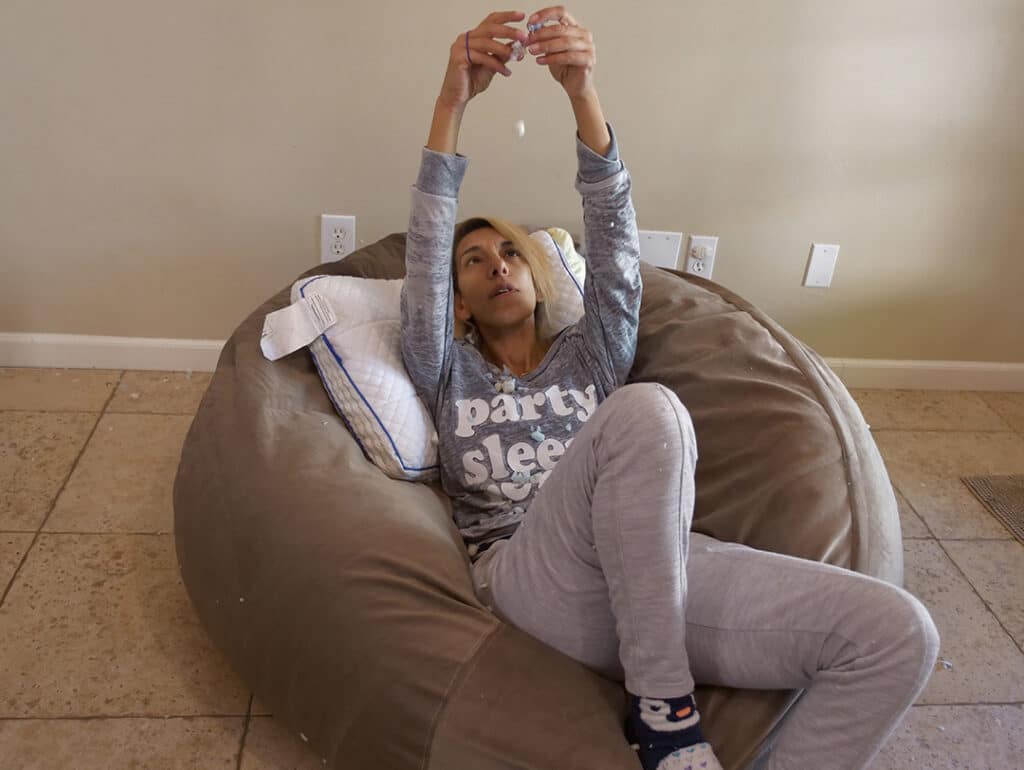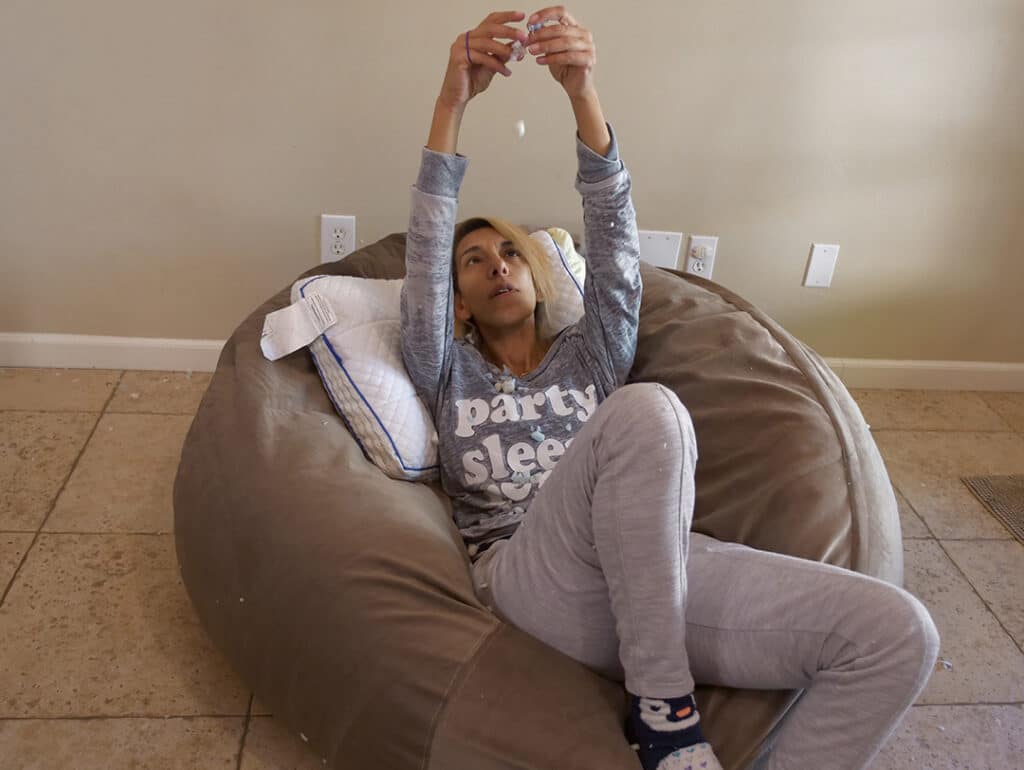 The filling inside the bag is a mixture of two premium types of memory foam for maximum support. NO ASSEMBLY REQUIRED, it's like music to my ears! Just unbox, unwrap, watch it come to life then sit back and relax. Or watch your favorite TV show! My son is already a big fan of the BBB, it is so comfortable he can spend hours playing video games. But now we have another problem, our dog claimed it too.
It's that one big bean bag for the whole family, humans and pets alike. The only downside is that you cannot share it and you might end up fighting over it! I secretly think it's so worth it giving all the positive things I have seen so far testing the Bundle Bean Bag.
Just like their Nectar sleep mattress, know that you are getting a great deal out of the bean bag chair when it comes to savings.
Features
• Modern seamless design
• Silky soft brushed twill cover
• Blend of two premium memory foams for support and rebound
• Comes in three colors to suit any home style
• Arrives compressed and ready to unbox with the cover already on
• Stain and water resistant, removable machine washable cover
• Ships direct in compact package
• Easy to set up and start relaxing
Plush and Durable Fabric
The cover is made from premium stain-resistant fabric, without any bulky visible zippers or seams. The cover slips off easily and can be washed in a washing machine, so you never have to worry about your bag getting dirty over time. This bag is built to last (and to look good doing it).
Supportive Memory Foam
The Bundle Bean Bag is made from two types of memory foam (not beans!) to be a combination of soft and supportive whether you are reading, watching TV, or sneaking in a nap. Because it's bean-free, it retains its shape while conforming to your body for maximum comfort.
The high-quality foam is compressed in a box before shipping. The cover arrives already on the bag, making unboxing and setting up a breeze. Allow for up to 48 hours for the foam to fully expand. Mine took 30 to 40 minutes!
Size: 48″Lx48″Wx48″Height
Weight: 65 pounds
You will want to since it is so comfortable.  The problem is that you may wake up stiff since you were sleeping on a bean bag and not on something flat like a mattress.
Bundle Bean Bag Price & Discounts
I'm not going to hide it, this is an expensive product.  So, it won't be for everyone.  The feel is much more like a memory foam pillow or mattress than the traditional bean bag chair that you are used to. It would be an ideal present for a child who needs a new gaming chair.  Or it could be added to your first apartment to give your friends a comfortable place to sit. Even though it has many mattress like qualities a full sized adult probably wouldn't be able to sleep on it.  So don't get any grand ideas about replacing your bed with this bean bag chair.
Bundle Bean Bag Price
Comes in Blue, Grey, and Mocha

Imagine a comfortable mattress, but in a bean bag shape
Bundle Bean Bag Review Conclusion
We have had it for almost a year now so it is easy to say there is nothing like the experience of this bean bag.  You expect a simple cheap bean bag experience and then you get something way different.  It's a chair that you actually want to sit in.  If you have a shredded memory foam pillow then you can imagine what it would feel like to have your whole body surrounded by that memory foam feel.
It can also double as an expensive pet bed as he or she may just claim it for themselves when you aren't looking.