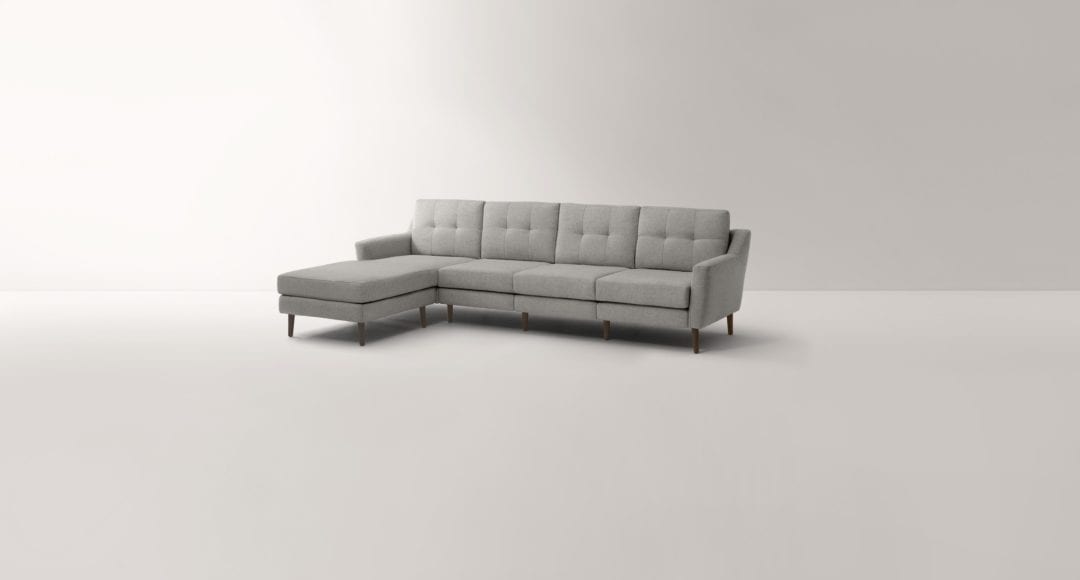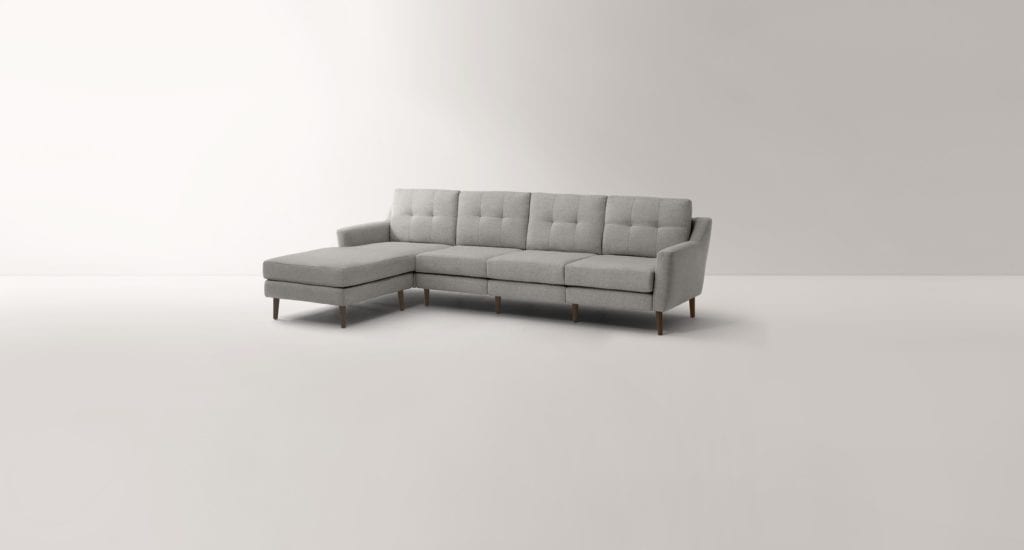 A burrow couch will ship directly to you, and when it is time to move into a new place and you want to expand it you will be able to ship the new sections to your new place. Of course, that means you still have to lug the original pieces with you. Pretend you start off with a loveseat and chaise in your tiny apartment. It has filled the room and given you plenty of room for activities. Unfortunately, it just isn't big enough for your new house. When it's time to move do you list it for sale for a fraction of what you paid? Or do you add to it in your new home? The ability to expand your furniture is what makes this such a compelling buy.
There is a 30 day return policy, but you have to keep the original shipping boxes.
You can order a swatch booklet to help you pick out the color that you want.
During the ordering process you can select your fabric and color for the legs.
Expect to spend 20-30 minutes assembling it, more if you just cant decide what end to put the chaise (which could go on either side).
What's Inside the Burrow Couch?
Your Burrow will arrive in multiple boxes so that you can easily move it. Once there assembly is easy, with no tools required. After you have assembled it you have the option to upgrade it at any time, just buy extra sections and piece it together again. Most importantly it can be disassembled and moved into a new house or apartment piece by piece without the need for helpers or a moving truck.
| Size | Couch Dimensions | Seats |
| --- | --- | --- |
| | | |
| | 35"H 86"W x 22"Cushions & 56"Chaise | |
Pros
Stylish Comfort
Multiple Cover Options
Free Shipping
30 Day Trial Period (KEEP THE BOXES)
Reversible Chaise Options
Cons
No option to curve it.  Basically, it is a straight or an L shape with the Chaise.
No, but if you add the chaise lounge section you will be able to take a few naps on it.  Don't forget you can pick the side where the chaise goes.
Does the Burrow Have Storage?
No storage options are available on the Burrow.
Burrow Offers Multiple Options
Prices Range From
Burrow Couch Review Conclusion
Think about the moving process, you disassemble the couch and can move it is little sections. How much easier do you think it will be to go up and down the stairs? You don't need a truck to pack up your couch, it will fit in your car. This is moving made easy. Plus when you get to your new place, you have the option to convert your loveseat into a 3-4-5 section couch.
The real magic behind the Burrow couch is that it can be adjusted to grow with you and your family. You can easily add to or remove sections. If you want to expand from a loveseat, just purchase an armchair and add it to the middle.