Friheten Sleeper Sofa Review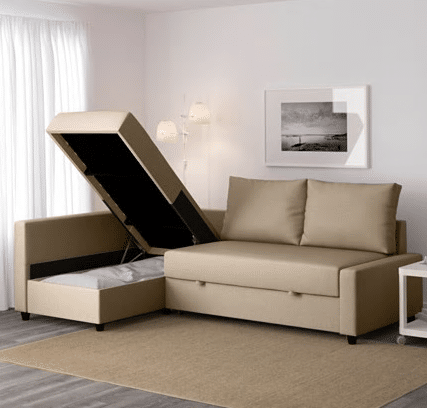 It's a couch & it has a hidden pullout that converts it into a bed.
What attracted me to the Friheten is that it doubles as a sleeper. I got to try it at the store, but I really needed to sleep on it before I could decide if it truly fits the definition of an alternative couch.
Below is the video that I shot about a month after buying it. I have had it for 9 months now and it only has 3,000 views, so it must not be very good. Or maybe there is just too much competition on YouTube for small reviewers.
The video at the bottom of this which compares it to the Flottebo has over 30,000 views, so you may want to just skip to that one.
The true secret to IKEA is that they flat-pack their products which makes them easy to ship. Of course, that means that you have to assemble so if you are scared of an l wrench you may as well just move on to another review.
Pros
• Can be used as a couch
• Can be used as a bed
• Easy to convert from couch to bed
• Amazing budget friendly price
• Storage under chaise
Cons
• It's an IKEA product so you know you will have to assemble it. • It is firm, but not thick enough for heavy people • You wouldn't want it as your main bed • In a large living room it would probably feel out of place as it isn't that large
What's Inside the Friheten?
It is a 3 sectional sleeper, and you can choose to put the chaise section on the right or the left side of the sofa. The fabric is going to be polyester, unless you choose to pay an extra $100 for Bomstad black, which is 25% cotton and 75% polyester. The couch is a mix of particleboard and plywood. The seat cushions and pillows are made from a fairly dense, 2 lb/cu.ft polyurethane foam. This is the type of foam that you would usually see at the foundation of a mattress. The cushions are on the firm side, but they aren't supportive enough for heavy people. You can feel the wooden structure if you apply a good deal of pressure to the cushions.
This couch will double as a bed for the days when you just can't drag yourself off the couch, or if you have guests. The ideal purchaser is one who is either just starting out, think first apartment, or for a guest bedroom, if it doesn't have room for a queen-sized bed. At this price and the shipping/ease of moving it I could see this couch making the move from apartment to apartment, up and down stairs etc. It is likely too small for the main couch of a family; however, I could see it getting a good deal of use in a child's bedroom. It isn't a luxury couch, so an established family with a large living room wouldn't want it as their main seating option. If you are on the heavy side, you should probably pass on the Friheten. The foam padding in the cushions isn't that thick, so a heavy person would bottom out and feel the wooden structure.
Does the Friheten Have Storage?
YES! this is a triple threat.  It is a couch, you can sleep on it, and it has storage.  Well done IKEA!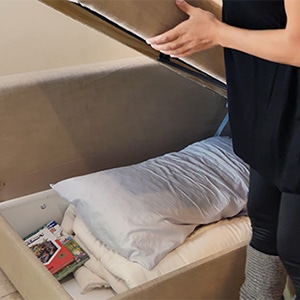 As an IKEA product, you expect a good deal of fun putting it together. As surprising as this is, I was able to put together the sofa 99% by myself. I had some help flipping and moving it, otherwise I did it myself. I only got stuck on one step and it was really my fault. I didn't have the main couch cushions lined up exactly right when I tightened one of the 2 screws. So, I had to go back and loosen one screw to realign the other screw. Usually, this wouldn't be a big deal. However, the screws have what I call a hat so the hat came off and the screw was still in there. It was a really small issue, but I could have saved 10 minutes or so had I been more careful.
Speaking of time, it took me about 2 hours to assemble and shoot a video about the couch. Expect it to take you about an hour alone and maybe 45 minutes with 2 people.
Assembly can really be broken down into three main sections. First, you have to choose which side you want the chaise to go on. Then you have to assemble the other couch section. Then you install the couch extension, which is used when you want to convert the couch to a bed. I have a step by step assembly section in my video review above.
IKEA Friheten Vs. IKEA Flottebo
My twin and I shot this video to discuss some of the key features of the Friheten and how it compares to the IKEA Flottebo.
As I'm writing this about 10 months after purchasing both of these, I'll tell you which one I still have. It's the… Flottebo, but I'm not really in love with the Flottebo since the pillows slide away if you aren't up against a wall and it isn't that comfortable to sleep on.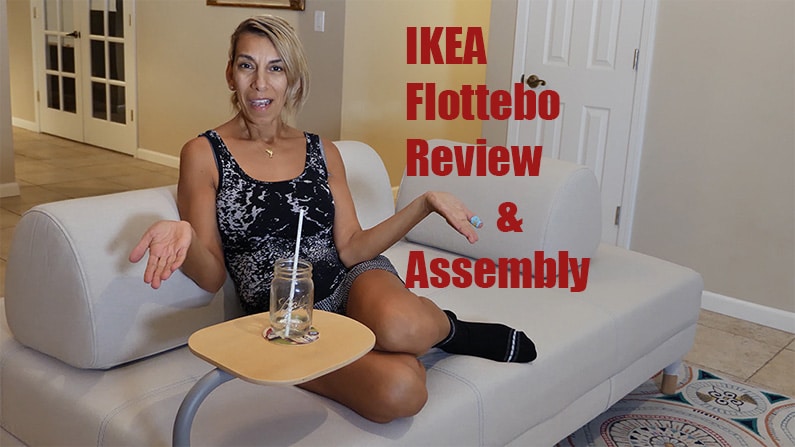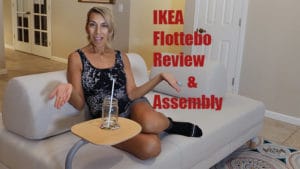 Alternate Couch
The Flottebo is a couch, remove the pillows and it becomes a bed. What attracted me to the Flottebo is that it doubles as a
Read More »