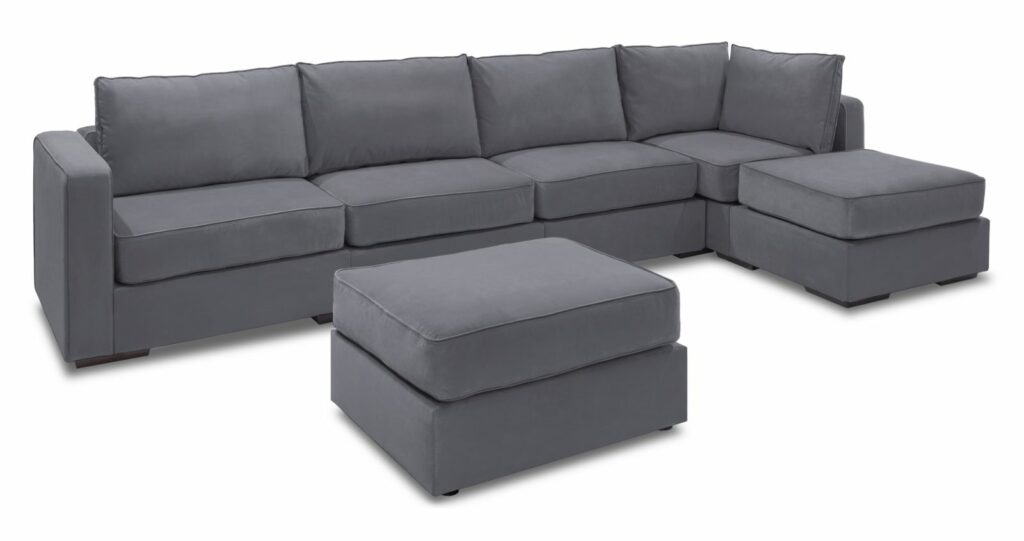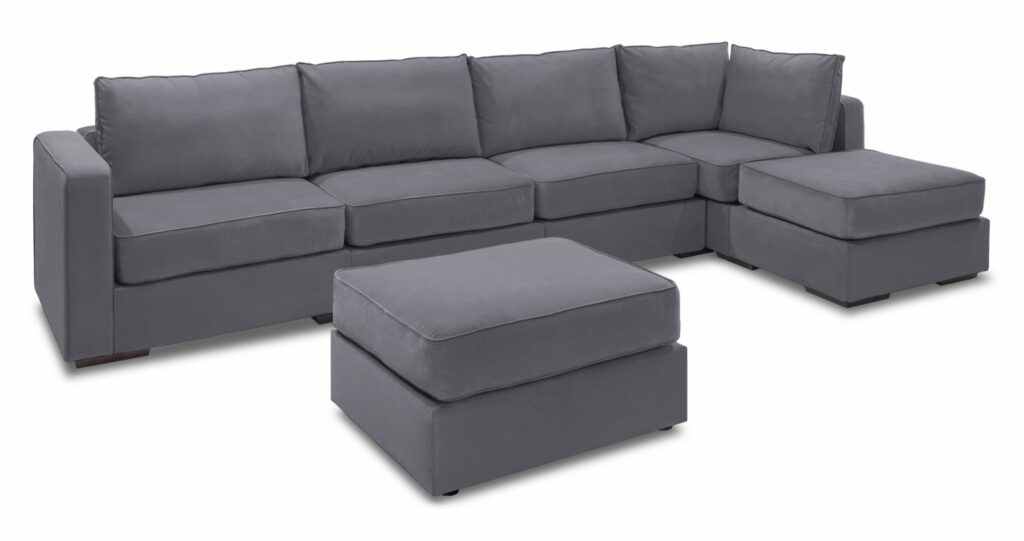 For branding purposes, they call their sectional couch a SACTIONAL
It makes sense, but it can lead to a bit of frustration when you are searching for one. The Lovesac sactional will ship directly to you in multiple boxes. Expect to spend a good deal of time unboxing and assembling your sactional. If you like to build things and want to find the perfect configuration for your room this will be a blast to assemble. If you want to refresh your living space, you can always switch things up.
LoveSac Sactional Review Menu
Pros
Add to it over time
Rearrange it at any time
Multiple Cover Options
Washable & Replaceable Covers
Easy to Move
Lifetime Guarantee
Cons
Very Expensive
Assembly Required
Lovesac is a publicly traded company under the stock ticker LOVE. Since the stock market has been on fire for the last decade, Lovesac's market cap (value) has risen to $314 Million as of 8/1/19. Why is that important? They have more than enough money to back up their lifetime guarantee on all sac inserts and sactionals hard pieces. Simply put they aren't going anywhere! In addition, they offer free shipping and a 60 Day Trial period.
What's Inside the Sactional?
If you like to create your own, these are going to be the building blocks that you need to set up your living room the way that you want. It is a difficult process, but if you find that you are short one piece to fill out your room or make the couch bend just a bit more, you can always buy more sections. With the ability to choose your own cover your options are almost limitless.
Speaking of COVERS, this is where Lovesac separates from the pack. They offer 12 different covers in the quick ship category and will really attempt to get you to purchase one of those. However, if you those 12 aren't enough for you and you are willing to wait a bit you can choose from 192 cover options. Now, to make your life a little less complicated they will send you a swatch book with 5 materials. My understanding is that they will offer more variety in their swatch book soon. The hard part is picking out the cover. From there assembly is easy, just fluff the sac a bit and throw on the cover, then zip. Then give the sac a giant plop down. Don't worry it will survive and you will enjoy the feeling.
If you have enough sactions you can create any size or shape bed that you desire.  The only drawback is that you will be able to feel the edges of each section.
Does the Sactional Have Storage?
No, but it is a nice way to have an "extra bed" in a small apartment, dorm room or kid's room.
Sactional Price & Discounts
LoveSac Has Countless Combinations
Enter your description
Lovesac Sactional Review Conclusion
I'm not going to hide it; this is an expensive product. So, it won't be for everyone. However, if you have the money to spend and want something that is stylish, upgradeable, moveable, reconfigurable, this is the couch for you. If it turns out you no longer like the cover choice, you can always buy a new one. This is designed as a forever purchase, so plan on moving it from house to house as your family grows.
If you are near one of the Lovesac 70 plus retail outlets in the US, you need to stop by and try out their different types of fill (standard foam, down, or lovesoft. Lovesoft is the least firm option, so you will have a bit of that sinking feeling.
Click on this link and they will send you an exclusive $100 off coupon code.

$100 off
LoveSac
https://refer.lovesac.com/s/rana